2021 Oxford Future of Cities Summer Courses (Online)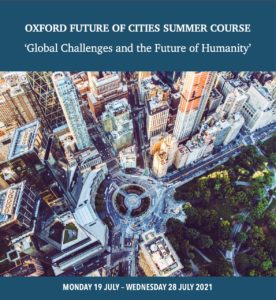 No matter where they are, cities face mounting and compounded challenges unlike ever before. The Covid-19 pandemic has ushered in a disruptive series of public health, economic, social, and political crises, while a growing number of cities are threatened by intensifying global risks, such as climate disasters, ethnic and racial tensions, cultural disintegration, conflicts, and depleting resources. The need to train leaders in tackling these challenges for the viability of our urban future has never been more pressing.
Starting in 2016, these courses are designed to do just that, offering a critical understanding of major aspects of historical, contemporary, and near-future urban development within their wider cultural, economic, geo-political, social, scientific, and technological contexts, with relevant case studies that explore innovative practices balancing the economic, environmental, and social aspects of sustainable urban development. The courses also provide leadership training in the key areas of sustainable urban development to make cities flexible, healthy, inclusive, resilient, and vibrant in response to evolving challenges and circumstances, in line with the United Nations' Sustainable Development Goals.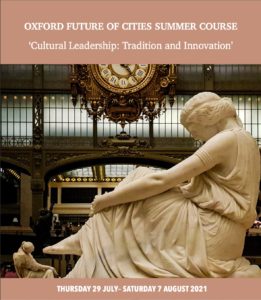 Aiming to connect top research and best practice, the courses engage attendees in interactive lectures and workshops taught by leading experts at the University of Oxford and other leading UK universities, practitioners from the UK government, and key players in business and industry.
The courses also help attendees develop leadership skills, including research, communication, project management, and problem-solving skills, through practical skills training workshops. Additionally, the courses offer an opportunity for attendees to be guided by experienced supervisors in participating in relevant research and practice-based projects, to help tackle local and global challenges.
All the attendees who successfully complete the course will receive a Certificate of Completion from the University of Oxford Network for the Future of Cities, together with the course module sheet which attendees may use to apply for academic credits at their home institutions.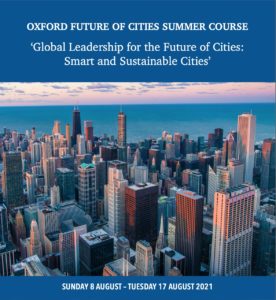 The courses enrich attendees' academic and professional experiences, whilst facilitating the fulfilment of their academic and career goals. Hundreds of talented students and professionals hailing from Asia, Europe, North America, South America, Oceania, and the Middle East have attended and benefitted.
The courses are co-hosted by the University of Oxford Network for the Future of Cities in collaboration with two Oxford-based organisations devoted to sustainable urban development: Summit Education Enterprise (SEE) and Oxford Sustainable Enterprise. Responsible for developing and managing the courses, SEE is an education organisation accredited by the British Accreditation Council and specialises in providing academic and professional short courses for university students and professionals.
The courses are normally held in-person at the University of Oxford. But due to the pandemic, we plan to offer the courses online this summer, and resume in-person courses when it is safe to do so.
In summer 2021, we plan to offer the following online short courses. We warmly welcome you to apply through SEE's application portal, or click on the individual links below to view further details and how to apply to join the courses:
'Global Challenges and the Future of Humanity' (19–28 July 2021)
'Cultural Leadership: Tradition and Innovation' (29 July–7 August 2021)
'Global Leadership for the Future of Cities: Smart and Sustainable Cities' (8–17 August 2021)
Application Closing Date: 30 June 2021
Course cost: £1,550 per student, £1,950 per professional
* A limited number of scholarships are available on a first-come-first-served basis. Please contact us for further details.
* Early bird discount: A discount of £100 will be available for applicants who submit their applications and are accepted into the course before 31 May 2021.
* An additional discount of £150 will be available for applicants who apply for and are admitted into a second Oxford Future of Cities summer course.
If you have any queries about the Oxford Future of Cities Summer Courses, please contact:
Dr Samuel Chen, Courses Director
Oxford Future of Cities Summer Courses
Centre on Migration Policy and Society (COMPAS)
University of Oxford, 58 Banbury Road, Oxford OX2 6QS, United Kingdom
Email: samuel.chen@compas.ox.ac.uk
Return to Courses and Events